There are two templates available for you to set up Customer Confirmation Emails:
Standard: You can also default to the standard template provided by Rokt without a branded header and footer.
Customized: You have the opportunity to provide a personalized and/or branded header, footer, and subject line. If you'd like, Rokt can also work with you to set up a personalized sender name and domain.
The following table lists examples of the kind of customization available to you and how they might appear across both templates:
Component
Standard template copy
Standard template example
Customized example
Sender domain
partner@poweredbyrokt.com
Ticketmaster@poweredbyrokt.com
Hello@ticketmaster.rokt.com
Sender name
Partner Name
Ticketmaster
Mia from Ticketmaster
Header
Your request made on {Partner}
Your request made on Ticketmaster
Ticketmaster logo
Footer
You were on {Partner} and engaged with {Advertiser} on {date} (UTC). {Partner} uses the Rokt platform to power these recommendations and to fulfill your request from {Advertiser} to {email}.
Your email address has not been shared with {Advertiser}. You will receive a maximum of two emails from {Partner} related to your request. You can also unsubscribe from this request at any time. Should you have any questions regarding Rokt's Privacy Policy or your records, please email privacy@rokt.com.
{Rokt_Address}
You were on Ticketmaster and engaged with HelloFresh on 02-02-2022 (UTC). Ticketmaster uses the Rokt platform to power these recommendations and to fulfill your request from HelloFresh to jane@email.com.
Your email address has not been shared with HelloFresh. You will receive a maximum of two emails from Ticketmaster related to your request. You can also unsubscribe from this request at any time. Should you have any questions regarding Rokt's Privacy Policy or your records, please email privacy@rokt.com.
{Rokt_Address}
You are receiving this transaction email because you requested this offer while shopping on Ticketmaster. Click here to unsubscribe or manage your email preferences.
Please do not reply to this email. Emails sent to this address will not be answered.
Copyright © 1999-2020 GoDaddy Operating Company, LLC. 14455 N. Hayden Rd, Ste. 219, Scottsdale, AZ 85260 USA. All rights reserved.
Subject line
The Subject line is standard and cannot be edited by advertisers.

Subject line for confirmation email: {First Name}, thank you for your interest in {Advertiser}
Subject line for reminder email: Don't forget your {Advertiser} offer

Jane, thank you for your interest in HelloFresh
Reminder: Don't forget your HelloFresh

Thank you for your interest in HelloFresh
Your HelloFresh offer is waiting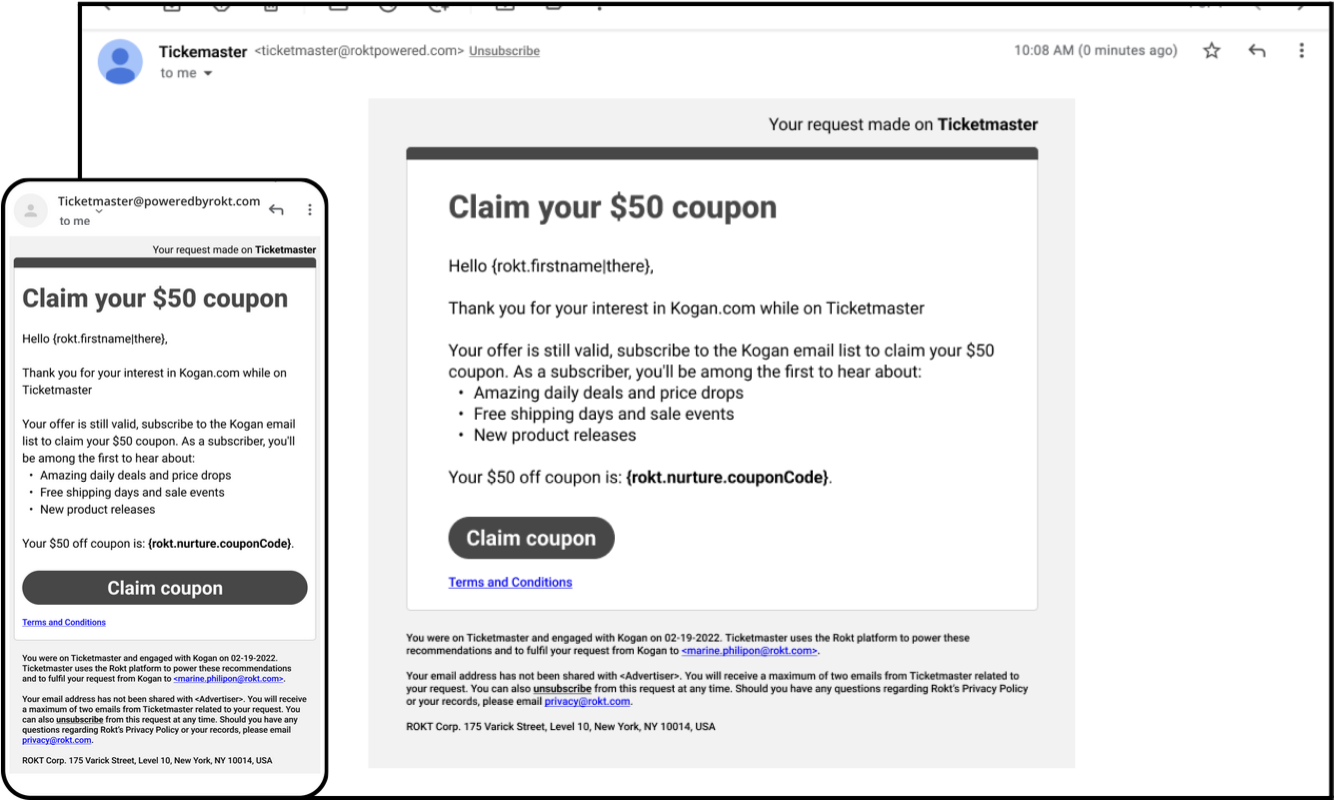 Remember, when using the standard template, the email header and footer are not customizable.
If you choose to customize your email template, please provide Rokt with the email messages (in HTML format), images, and subject lines. You can also set up a custom sender domain with Rokt.
Your email in HTML format
We ask that you provide your Customer Confirmation Emails in HTML format. Rokt recommends the following best practices to optimize performance:
When providing an HTML file, please ensure the code is responsive by testing across multiple devices on all major browsers and email applications.
For optimal performance, we ask that the email width be 600 pixels.
Please use web-safe fonts. If you'd like to use custom fonts, we recommend designating fallback fonts just in case.
Images
If you do not have image hosting capabilities, Rokt can provide them for your Customer Confirmation Emails. Before sending your images to Rokt, we ask that:
Images are the right format and size.
Images are less than 150KB.
You only use static images (GIF/JPG/PNG).
All your images are in a single zip file.
For this email type, we recommend minimizing image use. A logo for the header is recommended.
Subject lines
Please provide approved subject lines for the Customer Confirmation Emails. Rokt recommends personalizing your subject lines, which can increase open rate and engagement with the email. When creating them, we recommend the following:
Keep your subject lines under 35 characters for optimal display on mobile devices. For example:

"Reminder: Don't forget your HelloFresh offer" - Though this headline exceeds 35 characters, the call to action that engages your customer comes first.

Focus on the value add for the customer and remind the customer of the advertiser name.
Additional guidelines
All content should be reviewed to remove any spam triggers. This will keep your email sender reputation high.
If you are using an email template from your CRM, you should remove custom code that is specific to your email provider.
We will provide you with an updated unsubscribe link that will direct your customers to the Rokt unsubscribe page.
Please provide an HTML file to build your email, as we are unable to build emails from PDF or PNG files. Additionally, we ask that all links are included in your HTML.