Exporting transactions via file transfer
Secure File Transfer Protocol (SFTP) connections automate your data deliveries and require little effort to set up. All you need are your SFTP credentials, and you're ready to go!
After setting up an SFTP connection, you receive an email with a CSV file containing all of your transaction data at any frequency you prefer.
Rokt's SFTP connection
Before you begin
If you don't yet have access to the Rokt SFTP, reach out to your account manager.
Make sure you have the following information handy:
Delivery frequency—how often and at what times transactions will be uploaded into the SFTP server.
Required parameters—the most common being email, first name, last name, source, and state. For all available attributes, see this table.
Establishing a connection from a host computer (e.g., your laptop) to a secure FTP server requires third-party client software. This tutorial suggests the popular and free client FileZilla which is available for Windows, Mac, and Linux operating systems.
In your browser, navigate to https://filezilla-project.org/ and click Download FileZilla Client.
Install FileZilla on your computer. If you already have FileZilla installed, ensure you are running the latest version.
You should have received an email from Rokt with the subject "You've been granted access to Rokt's SFTP server."
Download the attached file and unzip the encrypted file using the password provided in a second email "Email for password for file with instructions."
The encrypted file you have just unzipped contains a .pem file which is your key file to access Rokt's SFTP folder.
note
The following steps are the same for Windows, Mac, and Linux operating systems and are based on the latest version of FileZilla.
Open FileZilla and navigate to File > Site Manager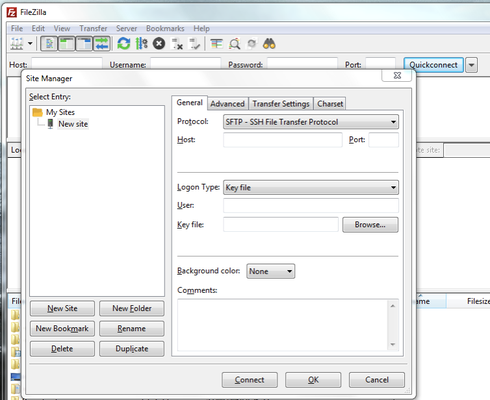 On the left, click New Site and fill in the following:
Protocol: SFTP – SSH File Transfer Protocol

Host: ftp.rokt.com

Port: 22

Key file: Browse to your local key file (.pem) and select it from your local drive (see image below).
Click Connect. You should be connected and able see your accessible folders to upload files.
File path and requirements
Transaction data files are placed within the following file path:
| File path | Purpose |
| --- | --- |
| /downloads | Download transaction data provided by Rokt |
note
Transaction files are automatically deleted from this folder after 14 days.
Using your own FTP connection
Navigate to your account in One Platform.

From the left navigation menu, go to Integrations > Connections.

Click Add connection.

Under Transactions, click FTP.

Select a template for this connection, then give your connection a name.

Enter the directory and file name.

Enter your FTP server host details and port.

Select your desired FTP method.

Enter the username and password, or enter the username and upload your key file.

Select your schedule and click Save.

Your connection has been created.
Disabling an FTP connection
From Connections, choose Scheduled from the left dropdown menu and Transactions from the right dropdown menu.

Click Pause.

Your email connection is disabled.

You can reverse these steps to enable your connection.