A creative is an offer that you present to customers. It includes the offer copy (your message) and the responses (actions that the customer can take, including at least one positive option and one negative option). Depending on the type of campaign and the placements, it can also include additional settings, such as a destination URL for traffic campaigns.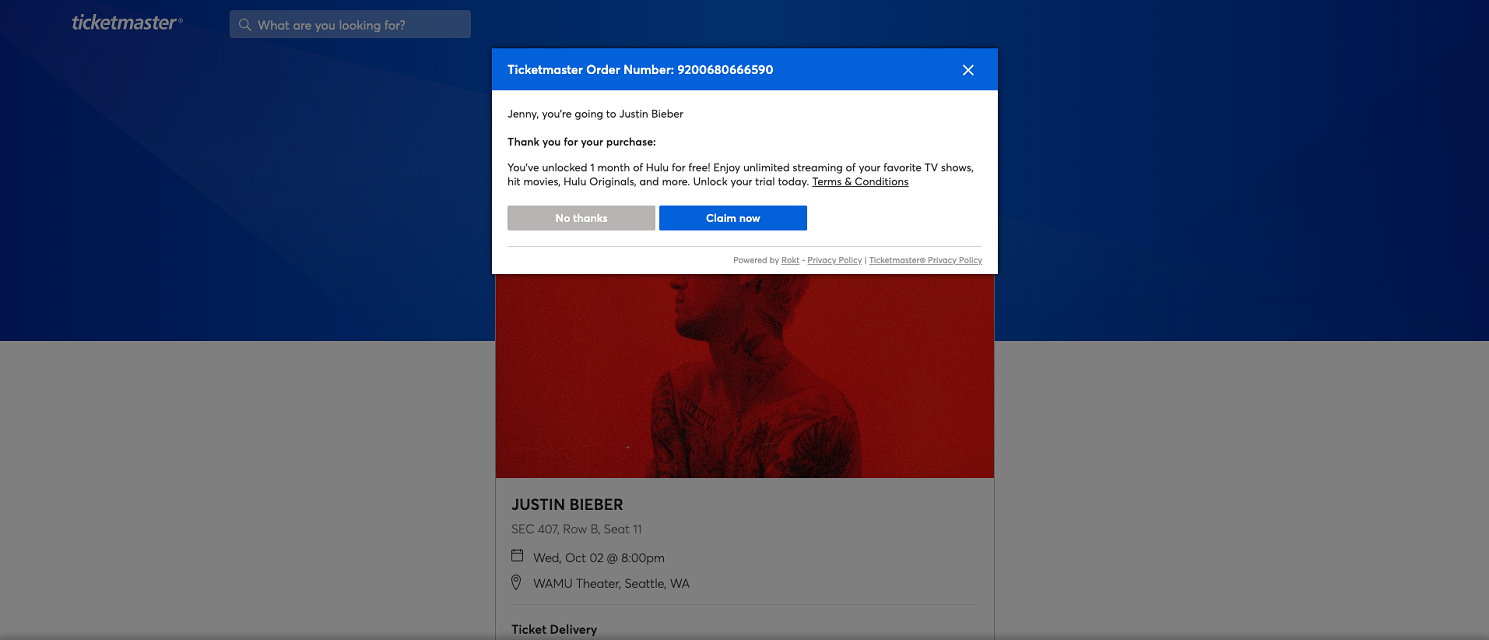 Example of a Rokt offer being rendered on a partner website.
Creatives belong to a specific campaign. To author a new creative, you need to select a campaign to which the new creative will belong.
From the Campaigns > Overview page, select a campaign to create a creative for.

Go to the Creatives tab.

Click New Creative.

Enter the name of your creative and select the placement format that you want to target.
Each format renders the content of the creative in a different layout, which is represented by a corresponding illustration. For maximum reach, select all formats.
note
Block and tile formats only show a single positive CTA (e.g., "Yes, please") and no negative CTA (e.g., "No thanks"). Only the standard format shows a negative CTA, and only standard formats can show more than one positive CTA.
Enter a title and creative copy.
The Title is the leading text that comes before the ad copy. Ensure the title and ad copy read together make grammatical and contextual sense. It is best practice for the title to include the promotion or special offer, and the advertiser name.

The Creative copy text is limited to 175 characters, less the number of characters used in your title. The counter in the bottom right corner of the text box keeps track of the characters you have entered.
(Optional) Customize CTA Options. You can change the copy for both the positive and the negative CTAs.

If you only target standard placements and your campaign objective is not phone leads, you can add up to two additional positive CTAs by clicking Add another response. Note: The copy needs to be different for each additional CTA.

For some campaign objectives, you need to supply a destination URL for the positive CTA.

Upload your Logo.

Supply brand domains contained in the offer creative. Note: This may not apply to all creatives.

Some offers contain third-party brands. For example, in the offer "Make a purchase of at least $100 on Kogan, get a $20 iTunes Gift Card," the brand domains are apple.com and itunes.com, but not kogan.com. Some partners want to exclude offers that contain competing brands.

Select audiences to link to this creative.

Linking the creative to an audience at this stage is optional. You can link audiences later from the Creatives tab. Note: All creatives must be linked to an audience before they can go live.