BigCommerce - Rokt Ecommerce guide
Rokt Ecommerce is a plug-and-play solution that applies Rokt's proprietary technology to the BigCommerce checkout. It enables you to serve relevant offers from Rokt's closed ecosystem of well-known advertisers to your customers after they've made a purchase. Every time a customer opts in to an offer, you get paid.
Quick start guide​
In this guide, you will be taken through the following steps to get started with Rokt Ecommerce:
Installing the application.
Enabling and testing your upsell page placement.
Installing the application​
To install the Rokt Ecommerce application, follow these steps:
Log in to your BigCommerce account and store.
On the BigCommerce Marketplace, search for the Rokt Ecommerce app listing.
Click Add app. This will open a confirmation page.
On the confirmation page, you can review the access that Rokt Ecommerce application requires in order to operate on your store. Once you have reviewed these, click Install app. This will begin the installation sequence.
T&Cs and privacy policy​
Once installed, review and accept the Terms and Conditions and Privacy Policy and click Continue. The application will finalize your account setup and then begin the onboarding flow.
Onboarding flow​
Once your account setup is finalized, you will be prompted to proceed through the following sections of the onboarding process:
Welcome page
How it works
Tell us about your industry - Select your industry verticals and product category from the available dropdown list. This information helps ensure that the offers shown are relevant and that your competitors are not displayed.
How to get started - Click Go to placement settings and follow the instructions in Enabling the confirmation page placement.
Enabling and testing the confirmation page placement​
Enabling the confirmation page placement​
In order to generate additional revenue from Rokt offers on your confirmation page, you must first enable the confirmation page placement. To do so:
Navigate to the Placements tab.
Click Enable Placement.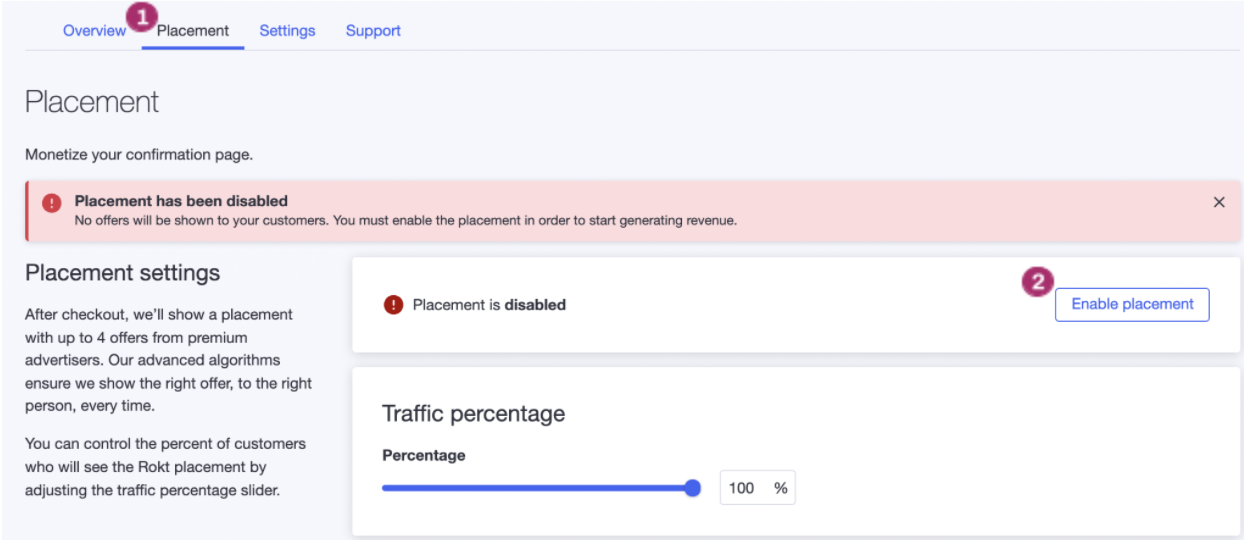 If you have not already provided your payment information, a payment information page will appear where you can enter your details to receive payouts from Rokt. If you would like to receive payments via PayPal but do not have a PayPal account, you can still enter the email address that you wish to receive payments through, and PayPal will help you create an account once your first payment has been processed. Learn more about payouts here.
Testing the confirmation page placement​
A preview of what the confirmation page placement looks like on your confirmation page is shown on the same page where the placement was enabled. To view the placement on your actual confirmation page and see what customers see, follow the below steps:
Make sure the confirmation page placement is enabled (see steps above).
Wait 10 minutes after enabling the placement before conducting a test purchase.
Make a test purchase on your store using:

A shipping address from one of Rokt's supported regions (i.e. United States). Learn more about the regions that Rokt supports here.
Test payment details to ensure you are not charged for the purchase. Learn more about the BigCommerce Payment Test Mode.

Complete the purchase and view the confirmation page. The Rokt placement should appear after a few seconds.
Notes
If your placement does not appear, refer to the FAQ for why this might be.
If you would like to change the look and feel of your Rokt placement, learn how to customize the placement design here.
If you would like to control what type of offers are eligible to be displayed inside the Rokt placement, learn about Rokt's offer control options here.