LiveRamp customers can send custom audience files through LiveRamp to Rokt. These files are loaded into the Rokt data platform and are functionally identical to custom segment files delivered via other pathways such as SFTP, APIs, or UI upload.
Frequently asked questions
What is LiveRamp?
LiveRamp is a data integration platform for marketers. LiveRamp's clients send customer lists (called custom segments) to LiveRamp where they can manage those lists. Lists can also be sent to other marketing and advertising technology providers (e.g., Facebook, Google, Salesforce DMP) for use in targeting, suppression, and measurement.
Marketers use LiveRamp for three main reasons:
High-quality ID graphing capabilities
Trustworthy reputation for handling sensitive client data
Large number of supported integrations
How can I configure a delivery to Rokt?
All Rokt accounts are enabled to integrate with LiveRamp by default. You can configure your data deliveries directly from LiveRamp. To set up these deliveries, you need two pieces of information from your Rokt account manager:
Rokt Account ID: The ID for your account in One Platform
Rokt Account Key: A passkey that is generated by md5-hashing the value rokt-<accountid>
You enter your Rokt Account ID and Account Key in LiveRamp to send your custom audience files to Rokt. After the delivery is first configured, allow 2–4 days for LiveRamp to send Rokt your files, and approximately 24 hours for Rokt to ingest the files into the audience system.
How can I tell if Rokt has recieved my LiveRamp data?
Once Rokt has successfully ingested your files, you can see them in One Platform under Customer Data > Custom Audiences. From here, you can manage your lists and view when they were last updated.
Note that it may take 2—4 days after the initial send for your data to be available in One Platform.
What if I input the wrong account ID or account key in LiveRamp?
Rokt's system rejects deliveries if the account key does not exactly match the expected value associated with the account ID that you input. A Rokt account manager is alerted to any error, and if necessary they will reach out to you with the correct credentials. Then you can reconfigure your delivery in LiveRamp with the right account ID and account key.
If I update my custom audience in LiveRamp, how is the data updated in Rokt's system?
When you update your list in LiveRamp, the updated list is sent to Rokt. Any new entries are added to the existing entries in the Rokt system. Entries are only appended; no entries are removed or changed. To remove or change existing entries, send a new list.
How do I configure deliveries in LiveRamp?
LiveRamp's client-facing interface is called Connect. As a LiveRamp customer, you can use Connect to upload and manage lists, and configure deliveries to destination accounts. From Connect, you can use the text-based search tool to find the Rokt destination account.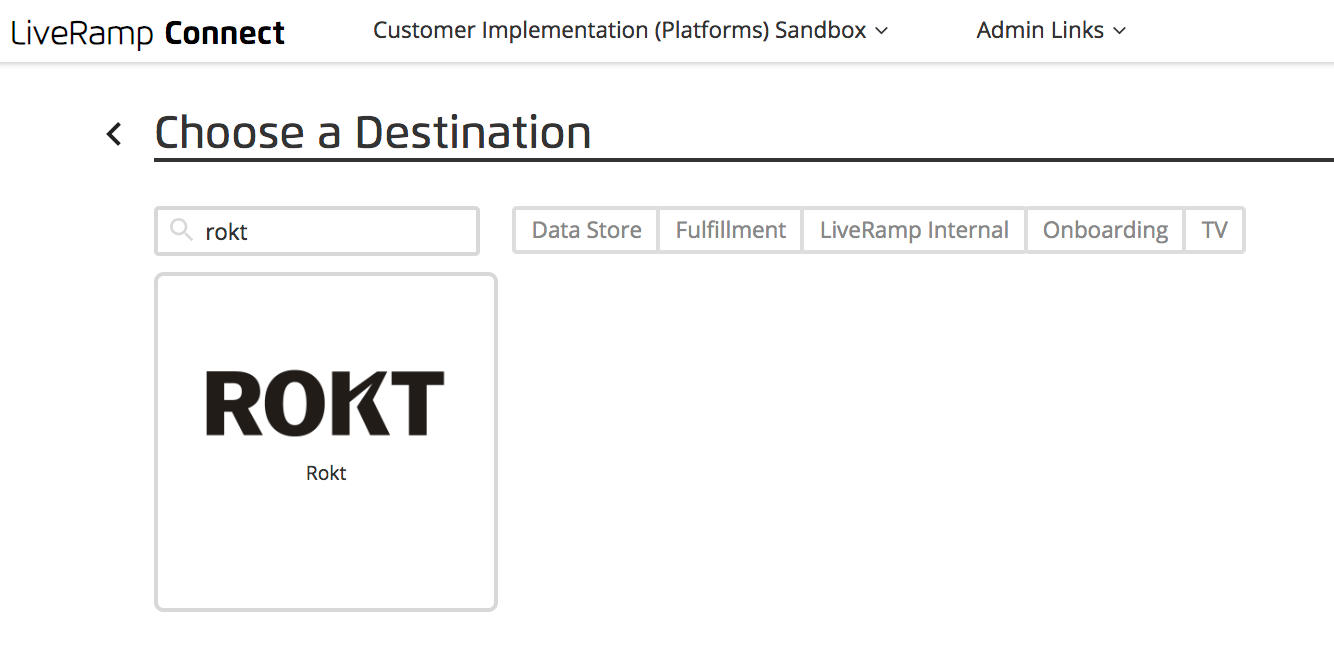 Once you find Rokt, you can configure properties for the delivery: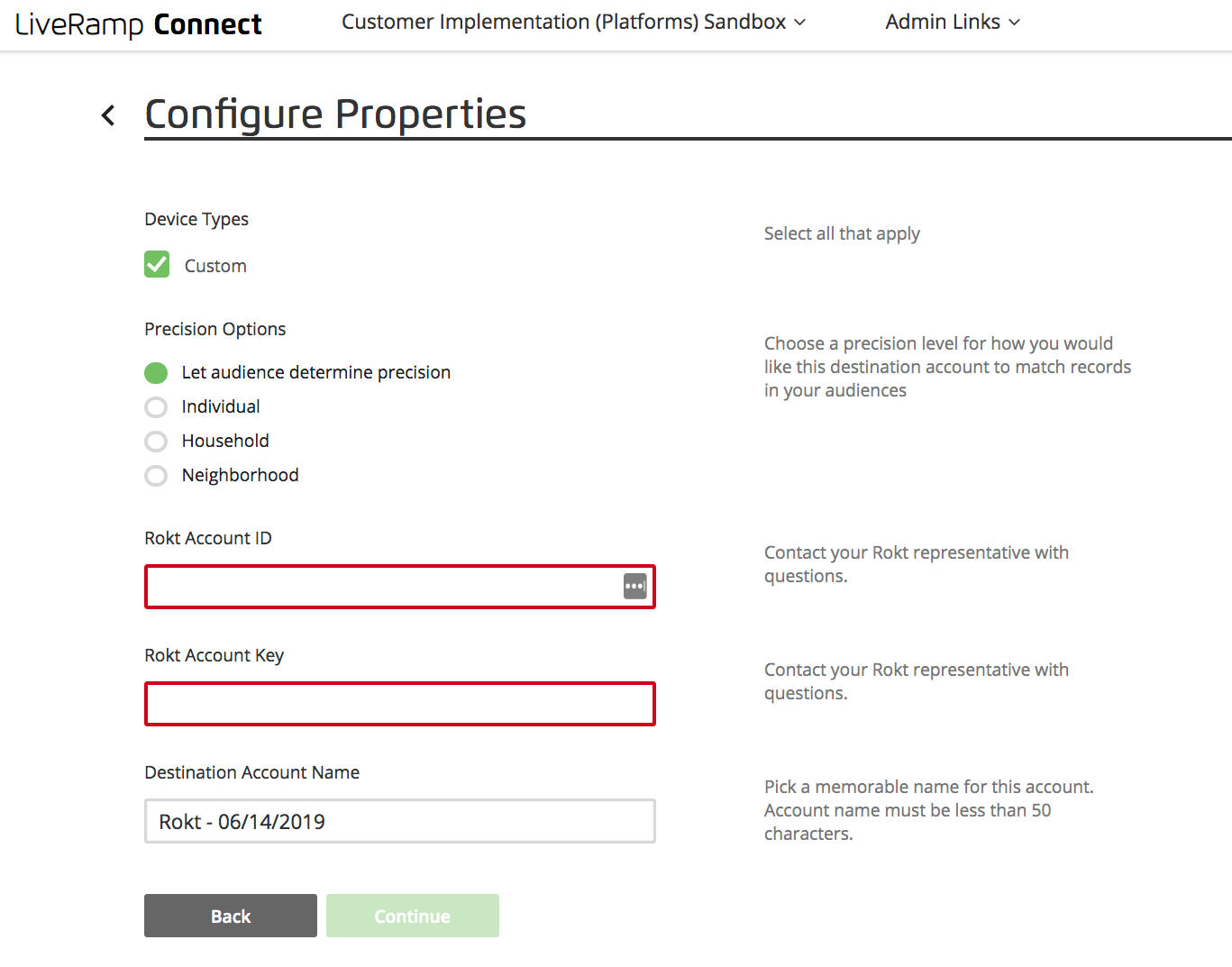 Device Types, Precision Options, and Destination Account Name are common fields in all LiveRamp destination account configurations.
Device Types: Select Custom. As part of our integration agreement with LiveRamp, Rokt only receives custom IDs. Rokt then maps these custom IDs to hashed emails sent separately by LiveRamp for enhanced security. Rokt then uses the mapped file for targeting and suppression. Other LiveRamp partners may be integrated via cookie or mobile ID data, in which case those options would be available under Device Types.
Precision Options: Select whichever you like. Before LiveRamp sends us your deliveries, they run your data through their ID graph to find other data points associated with entries in your list. LiveRamp then adds the associated information to your delivery. The Individual option is best for accuracy, while the Neighborhood option is best for scale.
Rokt Account ID and Rokt Account Key: Enter the credential provided by your Rokt account manager.
Destination Account Name: This is used to label tiles in LiveRamp. Use any name you'd like.
Visit LiveRamp's knowledge base for additional configuration instructions.