The Rokt Ecommerce application on the Shopify App Store is a plug-and-play solution that helps Shopify stores optimize their store's transactions by displaying relevant offers from advertisers during the checkout process. Additionally, Rokt advertisers can use the Shopify app to record conversions, with or without displaying offers, to optimize your Rokt campaign performance.
Installation guide
To record conversions using the Rokt Ecommerce application, use the following steps to install the application and link it to your existing Rokt account.
Step 1: Generate your app installation link
Click on your account on the Home page, then go to Integrations > Integrations from the left navigation menu in One Platform.
Under the Shopify Integration section, click Set up the Shopify integration.
Enter your store's unique myshopify.com domain name. Need help finding your myshopify.com domain name?
Click Generate install link.
Open the install link and log in to Shopify, if you're not already logged in. Important: To link to an existing Rokt account, make sure you initiate the process with the link generated from the Integrations page in One Platform instead of creating a new account.
Step 2: Install the app on your Shopify store
Click Install app to allow Rokt to modify the confirmation page and access transaction details.
Review the Rokt Privacy Policy and acknowledge that usage of the Shopify app is governed by preexisting agreements with Rokt. Click Continue.
The app is now installed and will begin recording conversions on the confirmation page.

Need help finding your myshopify.com domain name?
To determine your myshopify.com domain name, follow either of these options:
Option 1: When you're logged into your Shopify admin portal, check the URL to see your myshopify.com domain name.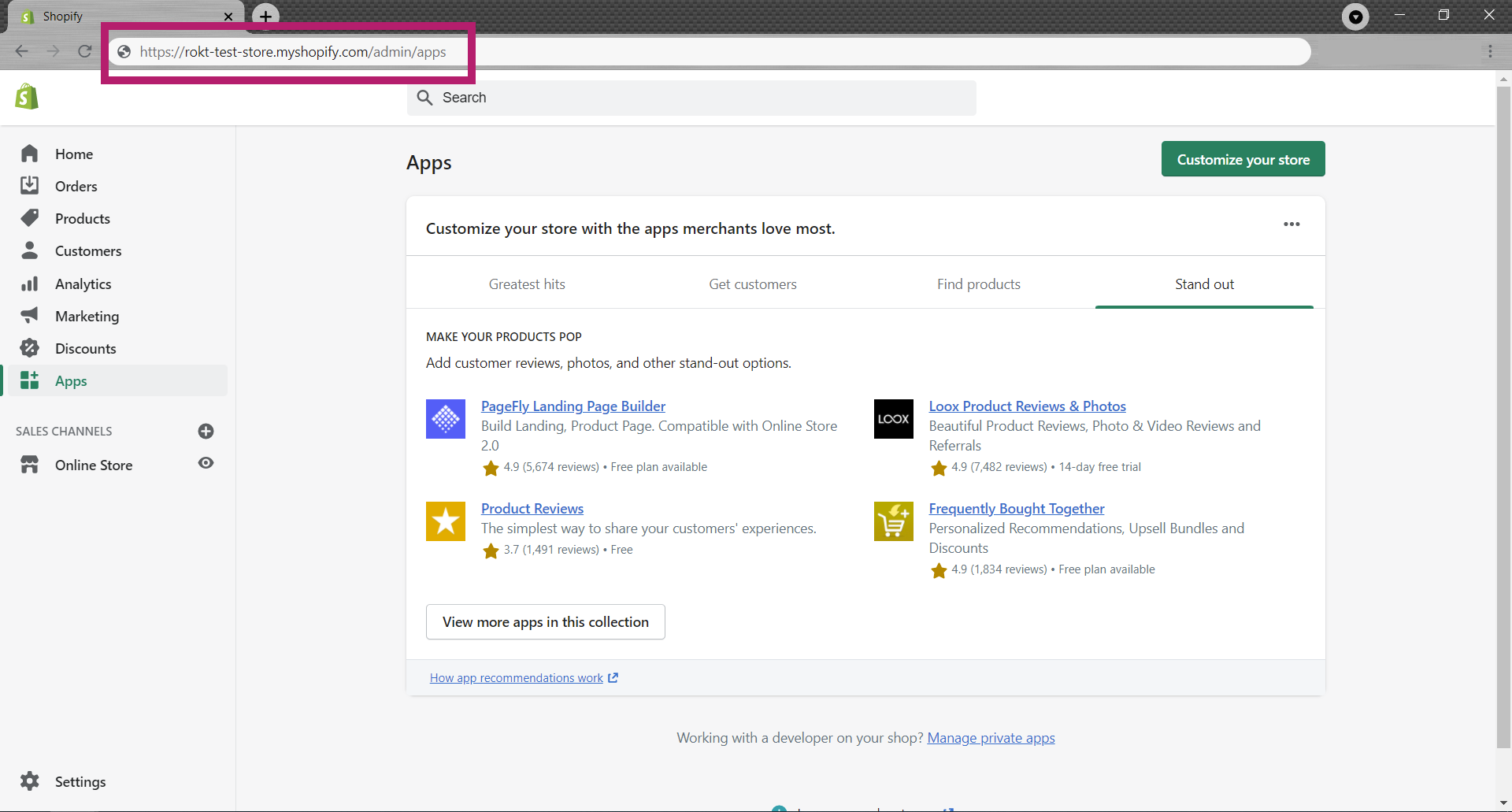 Option 2: Go to your Shopify store and open the Elements panel within the Dev Tools console (ctrl + shift + c) and search (ctrl + f) for myshopify.com. From here, you should be able to find your myshopify.com domain name.

Support
If you have questions, please reach out to your Rokt Account Manager or contact Rokt via our customer support portal.